Nautile aka Charles Hamel's personal pages
MENU





Added 2009 Sept 10th




The Braider

p466 FEBRUARY 2000
CONFUSION ABOUT TURK'S HEAD KNOTS & CASA
[open quote]

....
Since the name

Turk's Head

is used by many people for a large number of single and multi string cylindrical braids,

it is not a good name

for a

specific

braid form. Later we adopted the name

Casa Knot

,

solely for the shortness

of the name (

my emphasis

). This name was extensively used by Tom Hall, for in the purely pragmatic world of braiding this braid form formed, and still forms, the main basis of interwoven braids.

It is therefore not surprising that in most publications

far too much emphasis is placed on these so-called ' Casa Knots

' in the case of interwoven knots.



It should be remembered that for interbraided knots, one knot form is not any more

important than any other form.

The by us previously adopted names "

Turk's Head Knot

' and "

Casa Knot

' may cause a further problem in that an

over-under coding

throughout a braid not only may be seen as a "

Turk's Head " coding

or '

Casa ' coding

, but also a

column-coding

and

row-coding

.

However, an

over-under coding

throughout a braid does in general

not

imply that the braid has a column-coding or a row-coding !

The braid in Fig.387 has an

over-under coding

throughout, its coding is a

column-coding

, but is

not

a

row-coding

( see arrowed rows )

The braid in Fig.388 has also an

over-under coding

throughout, its coding is a

row-coding

, but is

not

a

column-coding

( see arrowed columns ).

In order to overcome the ambiguity associated with the names '

Turk's Head

' and '

Casa

', we shall in future denote a braid which has an

over-under coding

throughout, as a

n over-under coded

braid.

Although the name is somewhat long, there is at least no ambiguity.

For example, in future we shall call a '

Turk's Head Kno

t ' or a '

Casa Knot

'

a single




string

Regular Cylindrica

l

Knot

.
A multi-string Regular Cylindrical Braid with a

Casa-coding

we shall in future call an
over-under coded Regular Cylindrical

Braid

.

In this context, the term

Braid

will be used as a general term, hence one or more strings may be required in the construction, while the term

Knot

will indicate that only one string is required in the construction
....
[end quote]








What is a pineapple knot ?



SCHAAKE ON NESTED CYLINDRICAL BRAID





The Braider

p521 about the apex being aligned / " in phase " or "out of phase "
Fig.440 by SCHAAKE ( modified ) in The Braider

[open quote]
...When the apex positions of the right-hand nests of bights fall exactly midway between the apex positions of the left-hand nests of bights:

x = 2k + 2 + ( 2n - 1 ) A

with

P

c

=1 + 2n

for (

A - k

) Components and

P'

c

= 3 + 2n

for

k

Components, where

n

is a whole number.
Thus

n = ( x + A - 2K - 2 ) / 2A

, and the components have an

odd

number of parts which differ by 2 for the two Components types.



When the apex positions of the right-hand nests of bights line up with the apex positions of the left-hand nests of bights:

x = 2k + 2 + 2n A

with

P

c

=2 + 2n

for (

A - k

)

Components and

P'

c

= 4 + 2n

for

k

Components,

where

n

is a whole number.
Thus

n = ( x - 2K - 2 ) / 2A

, and the Components have an even number of parts which
differ by 2 for the two Components types.
[end quote]

As you see NOTHING WHIMSICAL by only REASON AND LOGIC here.



The Braider

p523 on HERRINGBONE-PINEAPPLE KNOT
[open quote]
...the well-known Standard Herringbone Pineapple Knots an the Semi-Standard
Herringbone Pineapple Knots have a string-run in which the apex positions of the right-hand nest of bights fall exactly midway between the apex positions of the left-hand nests of bights.
[end quote]



The Braider

p526 on HERRINGBONE-PINEAPPLE KNOT
[open quote]
A Standard and a Semi-Standard A-pass Herringbone Pineapple Knot respectively consist of A interbraided over-under coded Regular and Semi-Regular Knots.
When

l

1 = 1 and

r

1 = A, the interbraided knots are identical with the same odd number of parts each.
When

l

1 = 1 and

r

1 = k<A, the interbraided knots have an odd number of parts each :
(

A - k

) with p = (2*m - 1) parts each and

k

with p = (

2*m+1

) parts each, where

m

is
a natural number.
[end quote]








BURNING TRACKS : ANOTHER ' STYLE ' OF ENLARGEMENT giving a
different result from the results given by the usual enlargement processes ( those were
explored in Summer 2008 in Turkshead-2 and Turkshead-3 with drawings, photographies and text.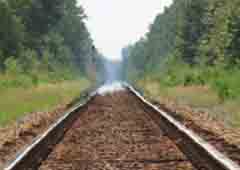 MELTING THE TRACKS ;-)
Click on the thumbnail to open a big picture
( quite slow if connection speed is less than
1024 bps ) in another tab or window.

Photo is courtesy of JIMBO ( Jim LONG ).
Any comment just send me an email that I will
forward to Jimbo. (see bottom of page for mail )


Best way (will be less slow to download that a web page full of drawings) to show what I have found is via a PDF file.

The gist of it is that by "tweaking" a bit one of the two already explored enlargement
processes one can obtain a ' new perspective'.

This preoccupation with enlargements is that they allow the knot tyer not to under the obligation of relying on a whole batch recipes simply put in the care of memory but rather to be relying on knowledge and intelligence. ( memory still need for data-storage though ).

So one has only a handful of knots (root knots) to know by rote (and even that is not fully right as with just a wee bit of concentration and thinking one can "find again " those basic knot just by a small effort of thinking along the right tracks.)



For a 3L 2B THK :

-- Enlargement Process on the

RIGHT

side of HP1(SPart-WEnd vector )
will lead to a 5L 4B THK

-- Enlargement process on the

LEFT

side of HP1 will lead to
a 7L 4B THK.

In each case it is going from 2B to 4B

WHAT IF I SHOW YOU THAT IT IS POSSIBLE TO GET

5B

instead of

4B

and
enlarge a 3L 2B to a 7L 5B ?

see Publications_5 to get the .pdf explaining it all.











INTERESTING PERSPECTIVE FROM 1944 ABoK on HERRINGBONE


as can be seen in this scan
concept is
#1290 the one we know Herringbone Weave or INTER-BIGHT RIM
#1291 HerringbonING, PARALLEL WITH THE LENGTH OF THE KNOT
in others words or BIGHT RIM PARALLEL





Copyright 2005 Sept - Charles Hamel / Nautile -
Overall rewriting in August 2006 . Copyright renewed. 2007-2014 -(each year of existence)


Url : http://charles.hamel.free.fr/knots-and-cordages/